The Challenge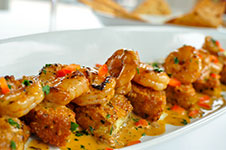 Since our agency opened its doors in 1999, Durée & Company has had many meaningful client relationships. However, none have been so unexpected and transformational as the one we have had with BRAVO|BRIO Restaurant Group (BBRG) since 2008.
BBRG is the corporate flagship company for the restaurant brands of BRIO Tuscan Grille and BRAVO! Cucina Italiana – two well-known, national chains that serve hundreds of thousands of patrons annually. From one restaurant launch in 2008, Durée & Company has grown the relationship with this national client into a multi-tiered program that affects not only its Florida restaurants, but also its national PR and marketing systems.
The Beginning
In 2008, Durée & Company had an opportunity to help BBRG introduce its BRIO Tuscan Grille brand of "polished casual" Tuscan-style restaurants to the South Florida market. Our team coordinated the media and marketing outreach for BRIO Tuscan Grille at The Shops at Pembroke Gardens in Pembroke Pines, Florida.
Our firm, which specializes in restaurant launches and openings, assisted BBRG's team with a seamless entry of BRIO into the region, handling the restaurant's PR, advertising, social media, collateral distribution, soft opening promotion and invitation lists, grand opening celebration and ongoing menu, personnel and special campaign announcements.
Following the initial foray, a bond was formed. And when the next Florida location was planned, BBRG called upon our team again.
The Strategies & Tactics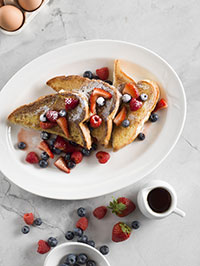 BBRG's model for promotion is to employ a local PR agency and rely upon its knowledge and expertise of the local media market to communicate the new restaurant's offerings. However, once the opening is complete, BBRG typically manages the ongoing PR from its corporate offices in Columbus, Ohio.
What makes Durée & Company's relationship with BBRG so unique is that our firm was asked to remain on-board for the continuation of promotion and communication at the locations for which we oversee openings. So with each BBRG restaurant opening that Durée & Company manages, our role expands in depth and breadth like no other agency relationship previously formed with BBRG.
Since we worked with BBRG to open BRIO Tuscan Grille at The Shops at Pembroke Gardens, the company has asked our team to oversee the PR and marketing for many BRIO Tuscan Grille and BRAVO! Cucina Italiana openings and remain the PR agency of record for all of them.
The scope of our work for each location we oversee encompasses managing the local media and sales & marketing efforts, including Breakfast with Santa, Labor Day food distributions to local firefighters and police, as well as coordinating on-air cooking demonstrations, personality appearances and marketing programs with each restaurant's local shopping mall and/or shopping center. (Most BBRG restaurants are located within or adjacent to an anchoring retail destination.)
While part of the same BBRG family, each restaurant has a different team, geographic personality, media demands and patron characteristics, which require customized PR and marketing approaches. Our team members are experts at creating PR and marketing programs based on clients' specific, unique requirements – and we continue to help these restaurants drive results.
The Results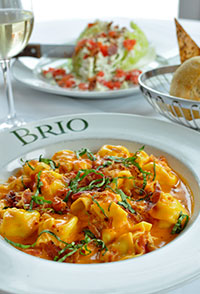 Trust is a commodity that must be earned. Since 2008, Durée & Company has worked with BBRG. We have earned this major restaurant company's trust, and it has earned ours. So much so that the relationship has expanded into assisting the BBRG corporate PR team with national system campaigns, such as National Lasagna and National Ravioli Days.
Following our proven results, our team has also been called on to assist with crisis communications, new menu rollouts, promotion of BBRG's national No Kid Hungry® campaign, recipe features and more.
Additionally, BBRG has asked our firm to influence and inform its system leadership by presenting and training at its corporate conferences and meetings.
In 2014, Durée Ross, president and founder of Durée & Company, presented at the BBRG conference in Columbus, Ohio, for all executive chefs and general managers. Her presentation, "Connecting with Your Community", was held as part of a break-out session, done in conjunction with the BBRG marketing department, and illustrated the strategies available to the audience to build their brand through PR and social media.
Durée & Company is proud of the reliance BBRG places in our team to support the company at the local, state and national levels, and the responsibility we hold as the sole independent, external agency tapped to build and maintain this stellar restaurant brand.