The Challenge
Amazing things were taking place at Boys & Girls Clubs of Miami-Dade.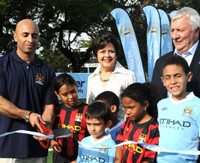 Enrichment, recreational and educational programs to serve the county's 10,000 youth were being updated with grant-funded investments in technology, equipment and support. New programs and offerings were being introduced or were under development, and these new avenues for opportunities were being spearheaded by fresh faces and long-time supporters.
The athletes and managers of the Miami Heat, Miami Marlins and Miami Dolphins were actively involved in the organization, due to its well-earned reputation for developing strong youth sports leagues. And the caliber of the fundraisers was increasing, raising the organizational profile among the area's affluent constituents.
But who knew about all of the amazing things? Boys & Girls Clubs of Miami-Dade was doing everything right, but no one was "buzzing" about it. Now was the time for a strategic marketing and communications plan that would educate and alert the public of how it could support Boys & Girls Clubs of Miami-Dade. Durée & Company signed on in August 2011.
Strategies & Tactics
When a client is doing so many things correctly, the challenge is prioritizing which messages to tell. With Boys & Girls Clubs of Miami-Dade, the communications and marketing solution was to target the strongest elements of the multi-functional organization and create key messages that would advance the development and growth of those elements, while recruiting the community to get involved – either as clients, volunteers or donors/supporters.
The objectives were divided into three categories:
Develop strong story angles that would be of interest to local media. Angles included:

News/updates from existing programs
New programs & offerings
New donations/corporate donors
Special events, including the annual "Wild About Kids" Gala, Annual Christmas Tree and Wreath Sales, the Verizon 100 Christmas tree giveaway and the springtime Annual Golf Tournament, in memory of "Bebe" Rebozo
A new special event "Claws for Kids" at Joe's Stone Crab restaurant
Growing sports league registrations for basketball, football and baseball, Summer Camp and Youth of the Year awards

Promote and build awareness of Boys & Girls Clubs of Miami-Dade's Club Blue Young Professionals group, partnership events, board member involvement, and grant awards.
Enhance existing social media efforts to reach a wider audience.
Durée & Company developed a Scope of Work that focused on promoting and publicizing the annual calendar of ongoing programs, initiatives and special events to South Florida media outlets. Where warranted, Durée & Company coordinated with the public relations teams from other organizations, such as the Miami Marlins, Sprite, Verizon, NBA, Manchester City Soccer Club, Lowe's and UPS.
The Results
After only one year, Durée & Company took a great thing and turned it into a greater thing that everyone was talking about!
Focusing on the objectives, implementing the strategies and fully engaging with well-executed tactics, noteworthy results were achieved and targets were surpassed. Among the many successes were:
Creation of "Claws for Kids," a new social fundraiser that brought in new audiences, new media partners, new coverage and a new alliance with the venerable Joe's Stone Crab. Durée & Company relied upon established relationships with Miami-Dade's social and business visionaries to combine the forces of great food and a great cause to create a fantastic, signature event.
Working with staff, new donors and the gala committee, Durée & Company helped increased the revenues for the "Wild About Kids" Gala 105 percent from 2011 to 2012.
Was recognized by leading event industry publication, BizBash, with a BizBash Top 100 Award for the stellar execution and results of the "Wild About Kids" Gala.
Over the course of just one year, increased media impressions and coverage to an estimated PR value of more than $617,000. This figure does not include the PR value generated from online coverage and radio promotions, which was also substantial in scope.
Durée & Company generated a PR value to PR investment ratio of 25:1!
As a result of the stellar results for this client, Durée & Company was a finalist for an international honor, and received the 2013 Silver American Business Award. Additionally, Durée & Company won the Gold Coast PR Council 2013 Bernays Award for PR Campaign by a Small Company or Firm for its work with this client.